Making a Reservation
To make a reservation a deposit of 30% is payable by debit or credit card or by a bank transfer. Balance of payment must be paid 8 weeks prior to the arrival date.
A £200 good housekeeping deposit may be required at the time of final payment (see below for information).
A home address, contact number and number of people and dogs staying in the property must be given at time of booking.
On receipt of deposit the booking will be confirmed in writing by email.
Bookings within 8 weeks of arrival date are payable in full by debit or credit card or by bank transfer.
Arrivals & Departures
The house will be ready by 4pm, and the property must be vacated by 10am on day of departure. Details of how to get to the house and key collection details will be given following receipt of final balance.
Cleaning
The house will always be clean and tidy for your arrival and should be left in the same way on departure. The following must be carried out:
All of the bins must be emptied and taken to the outside bins at the end of the drive. The general rubbish and recycling must be separated.
Any dog mess must be removed, even from the long grass within the garden.
The kitchen (including the cooker, oven and microwave) must be cleaned.
Any damages must be reported and paid for prior to departure.
If the property is left in a dirty or inappropriate manner this will result in an additional cleaning surcharge.
Good housekeeping deposit
A £200 good housekeeping deposit may be taken against the debit or credit card and retained by the bank or credit card company and will only be received by the owner if necessary following the holiday. This will only be taken if the house is not left in the condition it was found in when arriving at the house.
Dogs
We do accept dogs at an extra charge. However we do so with the understanding that owners will not under any circumstances allow their dogs onto the furniture or up the stairs. Dogs must never be left in the house unattended and all dog mess must be cleaned up from the garden. Any damage caused by a dog will be charged in full.
Smoking
No smoking anywhere on the premises.
Bikes
If hiring bikes a disclaimer must be signed stating you have been given a safety demonstration.
Damages
Breakages of plates, glasses etc will not normally be charged for but all other damages and losses will be charged in full.
Occupancy
The occupancy of the property should never exceed 8 people.
Vehicles/Personal Property
As well as cancellation insurance, guests are recommended to take out holiday insurance to cover loss or damage to personal effects.
Vehicles, accessories and contents are left at their owners risk.
The owners will not be responsible for any loss or damage or any injury to persons not caused through the fault of the owners.
Holiday Protection
To minimise the cost and inconvenience of cancelled bookings we would advise you to take out holiday insurance.
Restriction on Rental
We reserve the right to remove person or persons from the property due to unreasonable behaviour, damage to the property or exceeding the stated occupancy. In this case refund will be at the discretion of the owners.
Cancellation Policy
For bookings made prior to 15/4/20 or after 8/1/2021
If you cancel a reservation for any reason we must be notified by email immediately. In the event of a cancellation we will make every effort to re-let the house.  If we are able to re-let you will be reimbursed (minus the cancellation fee of £30). If we are unable to re-let, cancellation costs will be incurred as follows:
Notification of cancellation more than 8 weeks before your stay commences your deposit will be forfeited.
Notification less than 8 weeks you will be liable to pay the full cost of rental.
If we however are unable to fulfil your booking due to a National or local  lockdown (either local to Shore Croft or local to the guest) we will refund any money you have paid no later than the date on which the holiday would otherwise have commenced.
Master Cancel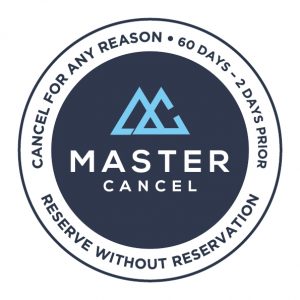 ONLY applicable to bookings made between 15/4/20 and 7/1/2021 when Master Cancel was available

These bookings benefit from the Master Cancel flexible cancellation policy allowing our guests to book with confidence, knowing that if they cancel for any unforeseen circumstances that arise, you the guest will be returned your valuable booking deposit or full payment depending upon what has already been paid.
Guests can cancel for any reason between 60 days and 2 days prior to check in date. Example: For a check in on Saturday, Guests could cancel the prior Monday, Tuesday and Wednesday, and Thursday, but not Friday (1 day prior) or Saturday (day of check in).
If the owner is forced to close the property due to Travel Bans, Government Directives/Executive Orders, COVID-19 you the guest will be refunded your booking deposit or full payment depending upon what has already been paid.
Bookings cancelled prior to the 60 days will result in a loss of deposit unless the owner can re-let the property (Which is more than likely).
Cancellations made 1 day prior to or on the day of check-in will not be eligible for any refund.
Bookings cancelled during the holiday will not be refunded.
Only lodging costs are refunded. Additional extras, including but not limited to cleaning fees, taxes and other ancillary charges, will not be refunded.
Refund Payment for cancelled bookings will be released back to the cancelling guest on the scheduled date of check-out of the original booking.
Guests may cancel their reservation by notifying the owner in writing via email that they wish to cancel.
A re-booking fee of £75 will be charged for all cancelled bookings.
Repairs to the property
Occasionally due to damage or wear and tear an item of equipment may not be working. We will do our utmost to repair it as quickly as possible. However due to the remoteness of the house this can sometimes take longer than usual.