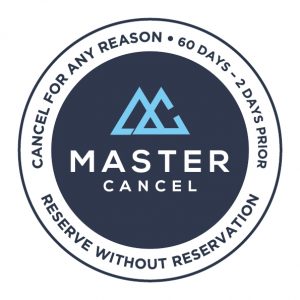 ONLY applicable to bookings made between 15/4/20 and 7/1/2021 when Master Cancel was available

These bookings benefit from the Master Cancel flexible cancellation policy allowing our guests to book with confidence, knowing that if they cancel for any unforeseen circumstances that arise, you the guest will be returned your valuable booking deposit or full payment depending upon what has already been paid.
Guests can cancel for any reason between 60 days and 2 days prior to check in date. Example: For a check in on Saturday, Guests could cancel the prior Monday, Tuesday and Wednesday, and Thursday, but not Friday (1 day prior) or Saturday (day of check in).
If the owner is forced to close the property due to Travel Bans, Government Directives/Executive Orders, COVID-19 you the guest will be refunded your booking deposit or full payment depending upon what has already been paid.
Bookings cancelled prior to the 60 days will result in a loss of deposit unless the owner can re-let the property (Which is more than likely).
Cancellations made 1 day prior to or on the day of check-in will not be eligible for any refund.
Bookings cancelled during the holiday will not be refunded.
Only lodging costs are refunded. Additional extras, including but not limited to cleaning fees, taxes and other ancillary charges, will not be refunded.
Refund Payment for cancelled bookings will be released back to the cancelling guest on the scheduled date of check-out of the original booking.
Guests may cancel their reservation by notifying the owner in writing via email that they wish to cancel.
A re-booking fee of £75 will be charged for all cancelled bookings.